How To Care For
Fringed Italian Linen Towels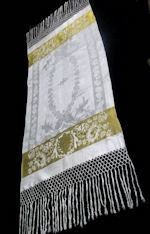 Beautiful, large, sometimes over 60" long, fringed linen towels were once a prized part of a bride's trouseau. Many of these towels were made in Italy. They were woven of fine, white or natural-colored linen, sometimes with a wide band of color at either end. Lovely damask patterns combined with long, up to 8", fringe.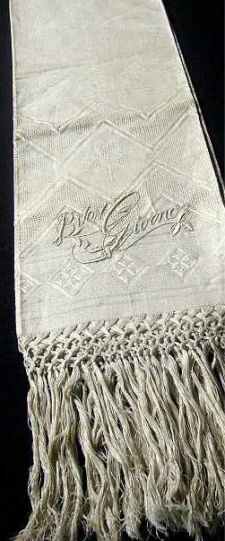 The fringe was hand-knotted, frequently with a lacy pattern before hanging loose. Occasionally, hand embroidery added individuality.
These towels were called "show towels", meant to be displayed, gently used; never to know real grime. Eventually, though, all good things get dusty. You want clean towels; it's not unreasonable.
But, you can just imagine the impossibly matted mess of tangled fringe (OK, it's not quite impossible, but untangling is a chore to be avoided).
The easy solution is to have your fringed towels dry cleaned.
However, doing it yourself is not so hard. The culprit is the washing machine's agitator. That causes the tangling!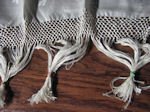 Fringed towels should be hand washed. Linen fabric is strong and the dyes are colorfast; you can use hot water and any laundry product you choose. Just don't twist the fringes together. To totally prevent twisting, I sometimes rubberband bunches of fringe (toward the ends) before washing. While the towel is still damp, finger-comb the fringes, starting at the ends. Line or machine dry. When you iron the towel give the fringes a final brushing.
The fringes will be even prettier than before; washing adds an attractive fluffiness. Your show towel will be even showier!
Beautiful fringed towels may be found in the:


Towels Section Of Hearts-Desires.com