Placemat
Marghab Simplicity

Cocktail Napkin
Marghab Barmaid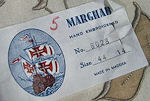 The Marghab name is to embroidered linens what the Tiffany name is to art glass. If you love fine linens, you will certainly wish to add Marghab pieces to your collection. However, it is sometimes difficult for the beginning collector to recognize Marghab linens at first glance. Labels were attached with a pin; thus removed and discarded at the first laundering. Cardboard boxes displaying the Marghab name were sometimes kept for storage; more often not.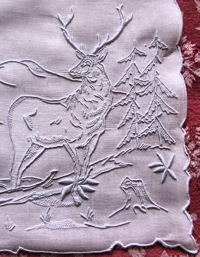 There are several fine sites on the internet showing many of the over 300 Marghab embroidery patterns, some with variations and most in several color combinations. Pattern names are usually listed alphabetically with illustrations and will help you to become familiar with and identify patterns. But at the moment of that estate sale or antique show, you need to make a decision. Even if you could access the internet, an alphabetical list is of little help when you don't know the pattern name.

However, there are characteristics you can become aware of that will help you to determine whether the piece was made by Marghab. Others such as Imperial, Leacock, Madeira linens bearing the little metal Gremio tag and small independent or cottage industry makers also display superior quality but none has quite the prestigious reputation or commands the price premium of Marghab.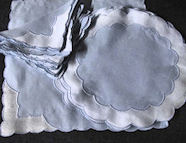 Placemats & Napkins
Marghab Scallopino
Irish Linen & Margandie

Primarily, Marghab made small table linens: napkin sets, placemats, matching placemat and napkin sets, often with matching table runners, and cocktail napkins. Occasionally you will find a wonderful tablecloth or hanky.

The Marghab company insisted on the best materials. They used fine Irish linen. While the transparent charm of organdy was desireable, the stiffness and puckering that developed aftering laundering organdy was unacceptable. Soft Egyptian cotton was woven in Switzerland to make Margandie® a Marghab trademarked fabric which retained the elegant sheerness of traditional organdy without its drawbacks. Special high-gloss embroidery flosses were dyed in England and France for use on Marghab products.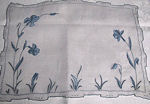 Many Marghab patterns are classic, simple and elegant.

Placemat
Marghab Trailing Vine

But Marghab designers were also innovative and these are the designs that you can learn to recognize at a glance. Look for asymetric designs, such as the popular Iris pattern; those that incorporate ususual figures, such as the Zebra or Stag patterns; and those that are in some way out of the ordinary, such as Trailing Vine, in which the embroidered vines cross the fabric border.

Lavender & Rose
Color Combination
Marghab Iris Pattern

Marghab designers were also innovative in their use of color. Who else would have thought to combine lavender with rose, as one of the lovely Iris combinations, or yellow with peach Calla Lilies?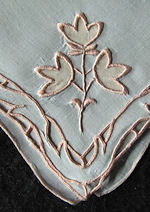 Placemat
Marghab Background
Peach On Grey

Marghab elevated the color grey to a position of sophistication, using various shades as both background and embroidery.

But the one very highest indicator of Marghab is absolutely exquisite workmanship. Only the best embroiderers were hired and only perfect work was accepted. We can barely imagine spending months creating one piece of 85,000 or more stitches; but they did and the results are spectacular. Always Marghab quality shows in the details.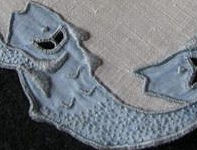 Madeira Seed Dots
Marghab Fish Napkin

Buttonhole Stitched
Mini Scallops
Marghab Cocktail Napkin

Common features include buttonhole-stitched mini scallops and lavish Madeira seed dots. Even under magnification, if it's Marghab, it's perfect!

The Marghab styles described above are just a few of those displayed at Hearts-Desires. The contents link below will direct you you these and others that you will wish to view while familiarizing yourself with vintage and collectible Marghab linens.
Placemat
Marghab Sailing Ships

See it All ...
Complete Website Contents -- Linens, Lace, Hankies, Home Decor, Etc. Etc.!
Updated 02/06/2020