Valentine Hanky
Embroidered Cupid

Embroidered & Floral Print Hanky
Decades ago everyone, from the most fastidious lady to the farmer in the field to the messiest kindergartener carried a hanky. Of course, the style and quality of their hankies varied greatly. The hanky was a necessity for wiping faces, noses, fingers, eyeglasses, etc. Disposible tissues have replaced the hanky as a useful textile.

Today a hanky is just an obsolete accessory until it becomes a vintage & collectible hanky.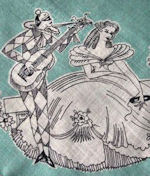 Victorian Style
Serenade Hanky

Some people put vintage hankies to decorative use, as in shelf liners with a row of pretty points draping along the edge, framed collections, hanky quilts or aprons. Others have made a lovely tradition of enclosing a hanky inside a greeting card. For many, collecting hankies is simply a way of enjoying vintage textiles. Some collect a specific category of hankies, some, anything that catches their eye.
Wedding Hankies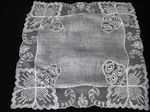 Wedding Hankie
Limerick Lace
The wedding hankie is still often a part of the bride's ensemble. It is almost always white, occasionally with touches of blue, and fancy. Most often the wedding hankie has a fine, lawn linen center inside a lacy border.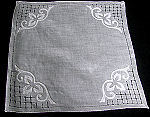 Handmade Whitework
Wedding Hankie

Of course, other styles, including monograms, embroidery or handmade whitework may be chosen by the bride. Of all the hankies, the wedding hankie is the one destined to be kept and cherished over the years. It may be folded and stitched to be used as a Christening cap for the bride's children, then unstitched so that her daughters or daughters-in-law may carry it on their wedding days.
Monogrammed Hankies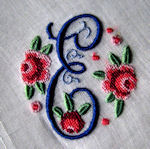 Monogrammed E Hanky
Petit Point Roses

There are occasions when a gift is not quite in order, but somehow Hallmark doesn't quite say it all.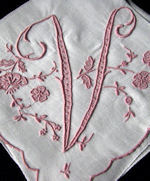 Madeira
Monogrammed V Hanky

Enclosing a vintage monogrammed hanky in the greeting card says that you cared enough to choose the initial, style and color to give a small lasting momento of the occasion.
Most monogrammed hankies are handmade, with elaborate single initials in embroidery or applique. Madeira embroidery, with its dainty, intricate embellishments and exquisite workmanship is popular amongst the ladies. You will recognize it by the tiny, seed dots that make a delicate texture within elements of the design.
Printed Hankies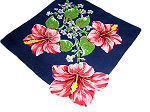 Floral Print Hanky
Amaryllis
Inexpensive, and colorfast fabric printing brought the era of floral and designer print hankies.
Every variety of flower was printed as a border, floral spray or single blossom; and many young ladies chose a special style, flower or color as their "signature", much like a certain perfume. A few floral print hankies were manufactured as round hankies, rather than square, and these make lovely collectibles.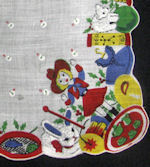 Children's hankies, which tend to have a shorter life-span than most, were often printed, and not of the best quality. Clowns, circus animals, pets abounded. Although it is difficult to find children's hankies in good condition, their adorable designs make them desireable.

Designer Tammis Keefe
Jockeys Hanky

Christmas, Valentine, state map and other printed hankies may form the basis for a collection. Designer-signed hankies offer a special art form. You may choose a theme, such as dogs, or a designer, such as Tammis Keefe to build your collection around.

Irish Linen Hankies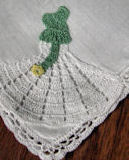 Irish Linen Hanky
Figural Lace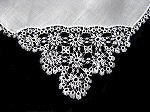 Classic Hanky
White Irish Linen
White Tatted Lace
Irish linen hankies are in a category of their own in that they are a home craft, have been made for a long time and still continue being made. The seamstress purchases hanky-size squares of Irish linen, called hanky blanks.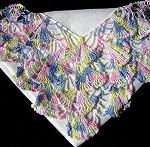 Irish Linen Hanky
Crochet Lace

These may be purchased in white or pastels. She then edges each square with her own handmade lace, most often crochet, tatting or hairpin lace. The all-time classic hanky is white Irish linen edged with white tatted lace; every lady owned one. A common variation includes edging and a display corner showing a figural lace design such as a butterfly, little girl or pansies.
The hanky styles described above are just a few of those displayed at Hearts-Desires. The site map to the left shows you these and others that you will wish to view while familiarizing yourself with vintage and collectible hankies. Hankies illustrating this article are available at the time of writing.
Wedding Hankie
Schiffli Lace
Updated 08/27/2015