SOCIETY SILK:
An Illustrated Introduction To Silk Floss Embroidery
Favored By "Society" Women Of The Early 1900s Find vintage & antique society silk items for sale in sections:
Table Toppers, Doilies & Runners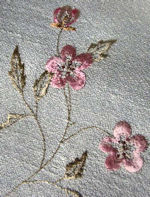 Society Silk Embroidered
Table Runner

Society silk linens don't win the popularity contest in the general public's view of collectible antique linens. They don't grab your attention, are easily overlooked. You'll notice adjectives such as "dainty", "subtle", "small" and "muted" recurring in descriptions. Well, they are under-rated! Perhaps "acquired taste" is an accurate phrase. For some of us, to know them is to love them. Society silk linens are awesome little (there's that word again) works of art.

Pieces from 2 1/2" coasters to 10" doilies are readily available and affordable. You could build a large and varied collection of these little beauties. Sets are desirable. Rarity and cost rise sharply with size. Table runners or toppers, from about 20" to 36", are highly prized. Anything larger is a treasure!



6" Society Silk Christmas Doily

Close-Up of the
Christmas Doily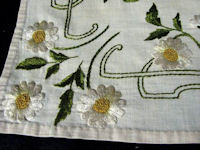 Corner of art nouveau
society silk table topper

Society silk embroidery developed as a hobby, almost an art-form, in the early 1900s; its name derived from its favor among "society" ladies. Floral designs stamped onto off-white linen were sold to be embroidered. Some artistic ladies created their own designs. Art nouveau flair dominated the style, combining flowing ribbons and naturalistic themes. Roses, violets, carnations and foliage were popular. Exceptions to the "soft and subtle" rule are the bright red strawberries or holly pieces that occasionally appear. An endearing feature is the nonrepeating design; although a piece may show four bunches of violets, each bunch is different.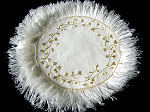 Set of 8" Fringed Doilies
Dainty Society Silk Foliage

The common denominator of society silk pieces is that they are usually worked with glowing, single-thread silk flosses, usually soft pastel colors. In other styles of embroidery, the eye of the needle carries several strands at once. A single thread requires finer workmanship and creates finer details. Two stitches, outline stitch and satin stitch, are almost exclusively used. A technique of staggered half-size satin stitches in two closely-related colors, such as pink and rose, adds shaded effects to petals, etc.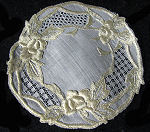 Doily Combining
Society Silk Embroidery
& Drawnwork Lace

As with all hand-crafted items creative latitude results in variety. Society silk embroidery carries this concept to the extreme; you will seldom find two pieces exactly alike. It is the individuality shown that makes them such an intriguing collectable. A set of eight coasters will all be the same size and finishing but each may display a different blossom; or perhaps, each a rose, but each rose a little different. Edges are sometimes finished with drawnthread hemstitch or fringed, but are most often buttonhole-stitched scallops with ecru silk floss. The silk embroidery may be enhanced by geometric drawnthread lace patterns; a cluny lace border, a center insertion of figural filet lace, almost any combination of handwork.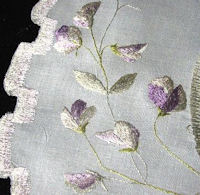 Close-up of Society Silk Violets
On a Vintage Table Topper

As I mentioned above, society silk pieces are not too hard to find, you just may not have noticed them. Look in the local antique shops or flea markets. Talk to people; occasionally a dealer may have a piece or two and that he had not considered "showy" enough to display. Collecting society silk embroidery will be an endless treasure hunt and will add touches of quiet elegance to your home.

The photos here show a few of the pieces available from Hearts-Desires at the time of writing. Find vintage & antique society silk items for sale in sections: Table Toppers, Doilies & Runners.

Complete Website Contents -- Linens, Lace, Hankies, Home Decor, Etc. Etc.!

Hearts-Desires.com
Updated 04/01/19