FIGURAL LACE: An Illustrated Introduction
Point de Venise
figural lace
on table runner

Pair doilies
figural filet crochet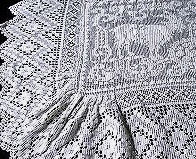 Popcorn figural lace bedspread
Figural lace is among the most desireable of laces. Some collectors collect only figural lace and their's are interesting collections, indeed. Many are one of a kind pieces and the variety seems endless.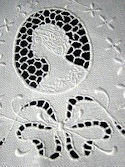 Cutwork figural lace
On linen towel

Figural lace is a term that describes the design of the lace rather than its use or making technique. It refers to any lace displaying recognizable figures. But, ideally, the figures should be asymetric, preferably live or mythical creatures. A floral design may qualify, but barely. A house with a winding path, a fence and a tree is better, but is still less desireable than a stag, cherub or child.

Figural lace comes in all shapes and sizes, from a 1/2" hanky edging to a banquet-size tablecloth or full-size bedspread. Lace-making techniques vary from simple filet and filet crochet, practiced by most housewives of byegone years to intricate professional lacemaker's techniuqes of needlelace, bobbin lace, eyelet and cutwork lace, often with several types of lace combining in the same piece. Almost all are in neutral shades of white, off-white, ecru or beige. Value is determined by size, artistic design, variety of figures and laces, and, most of all, the quality of the workmanship.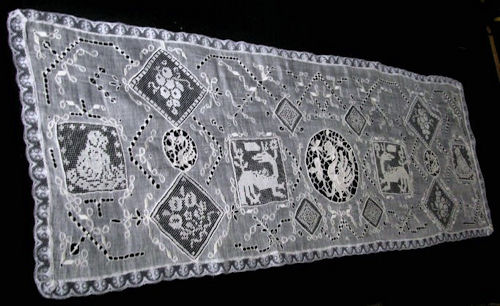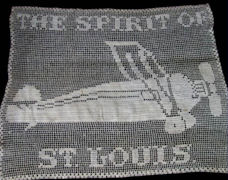 Figural filet crochet lace
Lindberg's flight
One category of figural lace deserves special note due to its wide popularity and availability: figural filet crochet. There was a time when every young girl learned to make lace with only a crochet hook and cotton yarn. Filet crochet is formed using that same hook and yarn and following a graph-paper-like chart or diagram. The finished figures are a stripe-texture figure against an open-squares background; occasionally a cane pattern varied the background. Popular themes included sunbonnet girls, cherubs, animals, etc. Those that depict historical events are highly prized. Charming children's coverlets are made of separate figural filet crochet lace squares, each illustrating a nursery rhyme, fairy tale or series in a story, such as "Little Red Riding Hood".
If you are just beginning to appreciate figural lace, buy a few pieces that simply appeal to you or fit in with your decor.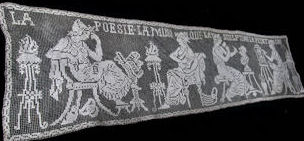 Fine figural filet lace
non-repeating scene table runner

They will add that one-of-a-kind charm to your home. As you become more familiar, you will become more discriminating, perhaps choosing one or two lace-making techniques, themes or preferring only handmade figural lace. However your interest evolves, you will develop an interesting collection of accents for your home.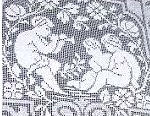 Pillow sham
figural filet lace

The photos here show a few of the pieces available from Hearts-Desires at the time of writing. We include figural lace in almost all categories of our website. Using the site map to the left, click on a category that interests you, such as table runners or doilies, and enjoy the figural lace that you will find there.
Figural Carrickmacross
lace doily

Figural Appenzell lace
table runner

Figural filet crochet
lace table topper

Complete Website Contents -- Linens, Lace, Hankies, Home Decor, Etc. Etc.!

Hearts-Desires.com

Updated 03/31/2019