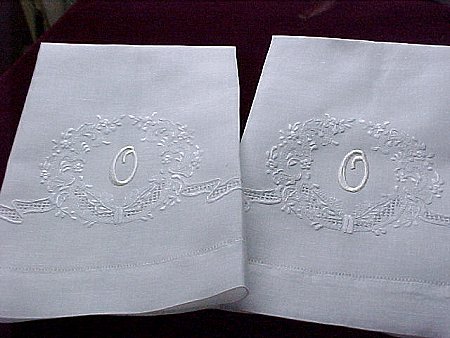 White-shadow embroidery----Padded satin stitch



Each 13 1/2" by 21 3/4", these two towels combine the subtle texture of fine white linen with hand finishing.
Lengthwise and back edges are machine-hemmed; the front is finished with a single row of pulled hemstitching.
A 5" by 8" design extends across the front. The ribbon-tied wreath frames the monogram. Selected threads are removed from the fabric to form lacy openwork ribbons. Curls and leaves are embroidered on the underside of the towel and outlined on the top to create that white-shadow effect. Padded satin stitch adds a three-dimensional look. The 1 1/2" curly-que O is applique.
These towels are clean and in excellent condition, brand new.