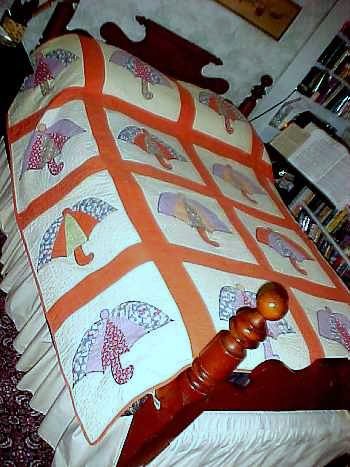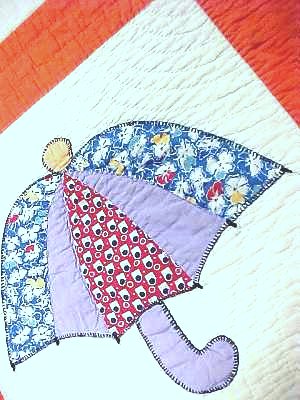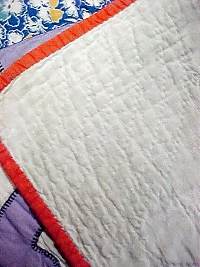 78" square, this quilt will add a colorful note to your decor.
In case you need to know, standard mattress sizes are:
Twin.....39" by 75"
Full.....54" by 75"
Queen....60" by 80"
King.....78 by 80"
Light batting and a cream-colored cotton fabric back the colorful front.
Home-Depot-orange bands outline sixteen cream-colored squares. Hand running-stitch quilting adds stripes along the bands and arc-patterns in the corners of the squares.
A 12" by 14" open umbrella is displayed on each square. Five curved umbrella sections, a handle and a top-knob are cut from solid and mini-print fabrics and appliqued onto the background. Black, blanket-stitching outlines the umbrella; black embroidered spokes poke out from the points. No two umbrellas are exactly alike!
This quilt has been stored for quite and it needs to be laundered.....no spots or stains, just the dinginess of time....in fact, those areas referred-to as cream-colored may actually be white. It is in excellent condition, possibly never used.
*vintage: gently used; posessing age, charm, character, maturity